McArthur High School
Class of '64
Welcome to the Class of '64 website. There may be another site for us on the 'net, but I haven't found it yet, so this is my effort. I've been meaning to do this for awhile—I've had my own site with my own domain name for several years—so the time seemed right.
Attention '63s
Don't leave yet. Keep reading. You're going to be included here, too. In fact, use your newly minted domain name, mcarthur63.com. It points to this same page for now, but may eventually have '63 specific material. Tell all your classmates. You don't even need to write it down. As I said at the reunion, if any one of us can't remember mcarthur63 or mcarthur64 .com, then we probably don't deserve to see the page.
The Usual Preliminaries
This is about all that's recognizable of our alma mater. Some of the newer structure on campus is downright hideous. The classrooms which faced Hollywood Blvd to the left (west) of the auditorium appear to be gone (seems to me most of the English Department classes were held in those rooms). The parking lot to the west of the classrooms which seemed to be the epicenter of the day's activities is covered with structure and nowhere to be seen. The school we knew essentially doesn't exist.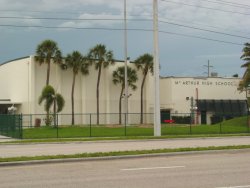 (click on image for larger picture)
A melancholy note—on the day I shot this picture from across the street at Boyd's funeral home, there was activity associated with a funeral taking place. When I randomly checked on June's website later that day, I learned the services were for a fellow McArthur grad, Steve Barkelew (I don't know what year). I wish I'd known.
More Melancholy
I just received word on the passing of another classmate. This will increasingly be a less rare occurrence as we all continue to accrue seniority. And I must point out that we are all treasured and worthy of remembrance. However, this time it was one of our leaders and a large figure in our Mustang community at a time when many of us hadn't yet found ourselves.
Kim Farr was our Class President, Class Salutatorian, and a Senior Superlative (Most Intelligent), and he left us on 13 September 2013.
We were fortunate to have Kim as a frequent attendee at class reunions over the years. This seems like an opportune time to ask anyone from the class who isn't in touch with the reunion committee or hasn't visited this website, and/or knows someone else who isn't in touch, either—please contact us. Our 50th is next year. Preparation is underway, and I'm confident Kim would have been among the first in line to attend had his untimely passing not prevented it.
50th Reunion News! Updated
Greetings Fellow Classmates of 1963 & 1964
On Sept. 19 & 20, 2014 we are gathering to celebrate our 51st and 50th class reunion, respectively. It will be held at the Embassy Suites, 1100 SE 17th St. Causeway, Ft. Lauderdale, 954-527-2700. The hotel is reserving a block of rooms for us, so please call as soon as possible for your reservations. When calling, give them the group name—McArthur High School Class Reunion 2014 and the group code of "MHS". We have a special rate of $119.00 for a king and $129.00 for 2 doubles. A full breakfast is included each day.
On Friday evening at 7:30 PM, Sept. 19, we will enjoy hors d'oeuvres and a cash bar in the Aqua Room. Casual attire is recommended for the evening.
On Saturday evening, Sept. 20, 7:30 to 11:30 in the Terra Ballroom, we will enjoy a buffet dinner. Semi-formal dress for both men and women is recommended. Photographs will be taken Saturday evening only. Music will be provided both evenings for your dancing pleasure!
The cost for the reunion weekend is as follows:
Friday evening only - $40.00 Per Person
Saturday evening only - $100.00 Per Person
For both evenings - $140.00 Per Person
For hotel guests only, there will be a complimentary manager's reception from 5:30 pm to 7:30 pm each night which includes drinks and snacks. For a non-hotel guest, there will be a $20.00 per person charge for the manager's reception paid to the hotel.
If you are planning to attend, all funds must be received no later than August 9, 2014, to guarantee your reunion reservations. There will be no cash, checks, or money orders accepted at the door. Make your check or money order payable to: McArthur High School Class Reunion. Your cancelled check will be your receipt.
Please mail to:
Eileen Brennan McDonald
8240 NW 45 Ct.
Lauderhill, Fl. 33351
If you have any other questions, please feel free to call any of the committee members listed below:
Eileen (Brennan) McDonald
(954) 741-5132
Norma (Otten) Ferrazzo
(954) 572-7587
Jerry Ziegenfuss
(954) 608-2623
Loyd Holden
(954) 435-0874
Barbara (Ramsey) Ziegenfuss
(954) 608-2622

If you are interested in joining a golfing excursion for this weekend, please get in touch with Dan Kinzly (clickable link).

We look forward to spending the weekend with you!!

Your reunion committee
---
Continuing the reunion reporting previously in place…
We had one, our 45th and it was great! Click below to see some pictures.
Many thanks to the efforts of the Reunion Committee to make this '63/'64 reunion come together. There's already talk of not only the '50th in 2014 but possibly mini regional reunions in the by-years. It was just so exciting seeing old friends again.
And speaking of which, here's a report on the recent Mustang Weekend in Jacksonville held 26 &27 April 2013.
Please Check In
If you're here and you haven't heard from anyone associated with McArthur in over five years, please make sure the Reunion Committee (doing double duty as sort of a clearing house of classmate information) has a current address. See if you're on the
You can drop a note to Eileen, to me (email link at the bottom of every page), or leave a note in the guest book (you can make a private post there if you prefer).
Even if you can't/won't/couldn't make a reunion, we sure would like to hear from you. We live in a wondrous electronic age and email can be the next best thing when it comes to reconnecting with old (I use old in the context of fond remembrances—not as an adjective denoting accumulation of seniority) classmates.
The Mustang


(click on image for larger picture)
I've scanned the cover of the yearbook—you can view it here (at left), while you're waiting for me to come up with some scintillating Class of '64 nostalgia stuff. Our stalwart officers can be seen at right. I've also scanned and coded the class pictures pages from the yearbook (link below).


(click on image for larger picture)

<!br clear="all">

(Click on tab to go to the yearbook pages)
'60s McArthur in the 21
st

Century

Other classes have their own sites. There's a site for the '60/'61/'62 grads, and one for the '65/'66/'67/'68/'69 folks. There is even an "official," one class fits all, site, although it's sort of today's McArthur, and you'll find little to which you can relate if you're here for the reason I think you're here.

At first blush, that now leaves a gaping hole at 1963, and I don't want that to happen. So, in keeping with the Mustang Spirit, and given that there are quite a few '63/'64 couples, I'm going to include the '63s in this site until such time as an interested party decides to develop a stand-alone '63 site. Please, however, don't take offense if '63 doesn't receive the focus that my primary interest directs toward the '64 perspective. In any event, most of us were there together for two years, at least, and Royal Castle was the same to you as it was to us.
What's So Special About Us?
Grads and Growth
Fallen Friends
Inside Look—Ouside Hook
Who's the goofball running this affair? Rod Peterson, at your service (Warning! Link leads to egocentric, self aggrandizing, biographical yawn fest of little importance and less interest—don't say you weren't warned).
In order to help make this thing work, please send me an email. There's a link at the bottom of every page. I'd be glad to hear from you (even if you couldn't stand me in high school) and I'll be grateful for every tidbit of information we can add to the site that everyone is going to want to know. Spread the word. Tell your friends and family.
Guest Book
The Guest Book is back in service!.
Recent Happenings
We had a nice montly dinner turnout on 1 February 2013 reinforced by a contingent from the South. Total attendance: 16 souls, 12 of whom were actual Mustangs!
©2016 All Rights Reserved
Last updated: 18 March 2016